2008-Capri- work began in earnest on AA Silencers next race car.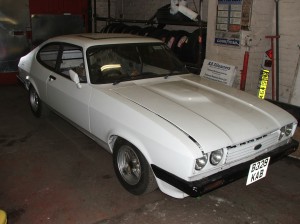 What was originally a 1.6 Ford Capri came in for some major work. This started by completely stripping it to a bare shell. All major areas of rust were tended to, all none structural metal was removed and a roll cage fabricated. Fibre glass wings, bonnet and tailgate were fitted and a new lightweight wiring harness was made. A new cross member was fabricated for the front to relocate suspension and steering components plus engine mounts for the new engine. An inlet manifold was fabricated from scratch to take an as yet untried inlet system combination and an ECU was sourced for the ignition. The wiring loom was made for the ECU and all necessary sensors sourced and brackets and adaptors made to fit them as required. The engine was fitted and rigged with a temporary cooling system. A dash was made and wired in to monitor everything and countless other jobs were completed to make all of these parts resemble a car and stand a chance of working. In late 2008 the key was turned and it fired in to life. All of the prototype systems functioned and the car could be driven. Although there was a huge amount of development to be done the ground work was laid for what would be a tremendous racing car.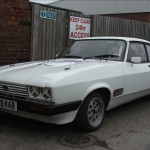 2009- Capri- Endless development has continued with the Capri. Wheels tyres, brakes, suspension pick up points, axle and drive ratios, gearbox, differential, anew cooling system, a new lubrication system, more weight loss, aerodynamic aids, a new fuel delivery system, a new exhaust, more testing and more set up work and finally it is ready to race! Fingers crossed for the end result but hopes are high.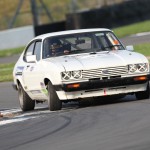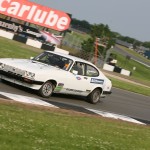 September 2009- the big day has arrived, the first race for our capri. It was a 3 hour treck up to Cadwell Park near Skegness and we set up for the compulsary nights camping, BBQ and beer. 6am soon came around and the team were in full force preparing for Qualifying. The reward for their efforts was 3rd in class and no dramas with the car. It was a tremendous result from a new car at its first showing and all eyes were set on the race. Tension was high as everyone felt it was too good to be true, everyone knew there were always teething troubles and we were all waiting for them. A good start kept the car out of trouble and a super smooth pitstop jumped us up in to 2nd place. The car worked perfectly to the flag and the result was better than anyone could've imagined. Smiles all round on the long drive home and a thankfully short check list before the next race.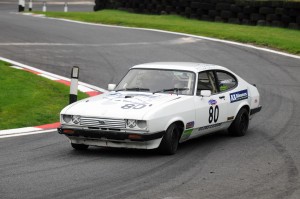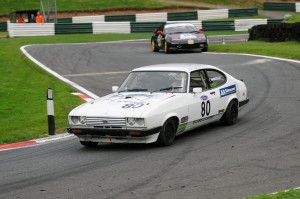 The Capri was put to good use at the final race of the year at Snetterton.  There were many new cars entered in out class and Snetterton is an open fast circuit favouring big powered cars, so we were concerned we may be at a disadvantage. Despite being down on power to the big Jaguars, Porsches, Lotus's and Ferrari's we still qualified 4rd in class. A good start and hard fought opening laps brought us up to 3rd and closing on 2nd place when suspension failure led to an early end to the race. New suspenson was designed and built as the car had to run the following week at a magazine's track day.  The car impressed and we may be running cars for the magazine ext year. Watch this space.  It was good to see several customers at the track day and is something we are hoping to build on in the new year.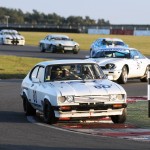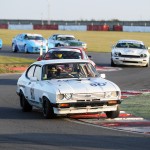 Tags: Capri, Race car, roll cage, shell preparation, Track day, weight saving