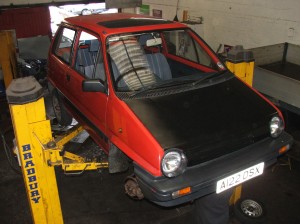 Ever seen a honda Jazz before? Not many people have because there's not many around. Even rarer than  Honda Jazz are parts for a Honda Jazz.
Most of these old jap cars have rotten away long before they reach the Retro Cool status that this little town car has achieved. It came to us for a little exhaust work and some of the inevitable welding that goes into owning an old car. To be fair it was in very good condition, just a patch or two here and there followed by a liberal dose of waxoyl.  The main problem was the bottom ball joints in the front suspension. They are as rare as the preverbial teeth from a hen and when we did find some they cost more than the car did. The solution was to break out the parts catalogue and get welding.
We found that some Peugeot ball joints had the same dimensions so the lower arms were measured and moddified to take some bolt on ball joints. It takes a whole lot longer to do than it does to say but we've done this several times on track cars to get more camber on them and the results speak for themselves.